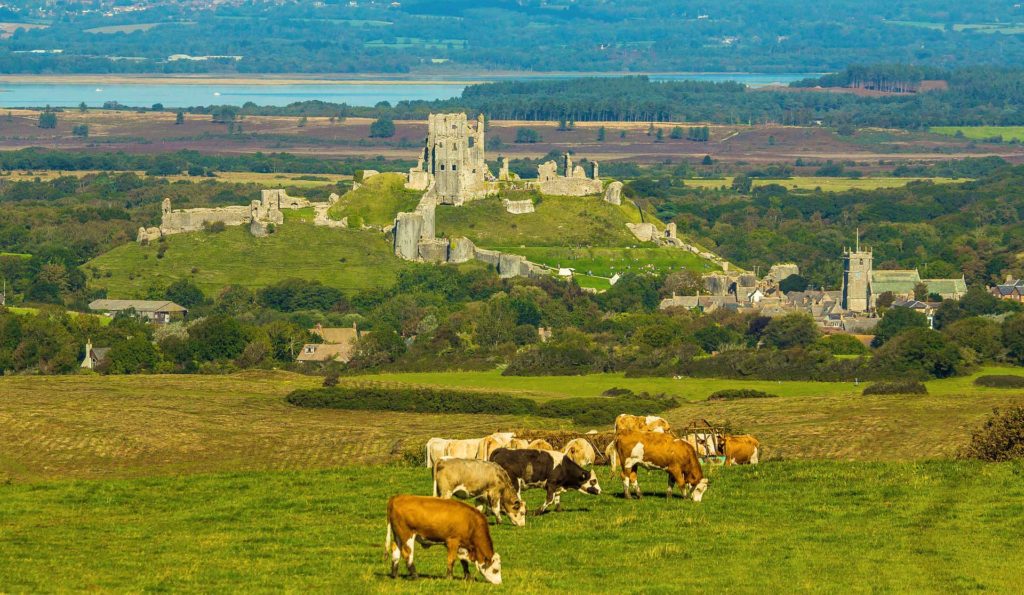 Corfe Castle is located halfway between Wareham and Swanage on the Isle of Purbeck in Dorset.
The dramatic ruins of the Castle stand on a natural hill and guard the main route through the Purbeck Hills.
It guards the gap between the Isle of Purbeck and the rest of Dorset and nothing can pass in or out without going past the Castle.
Visiting Corfe Castle has to be on the wish-list when visiting Dorset ~ it's easy to find and there's lots to see and do when you get here. Exploring The Castle is great fun for kids of any age and there's plenty of places to explore in The Village to keep you occupied all day.
Visit the Model Village (a 1/20th scale model of Corfe Castle and the village), learn about the village in the tiny Museum, explore the winding streets and see the unique Purbeck Stone Cottages, go back in time and visit the Swanage to Corfe Castle Heritage Steam Railway.
You'll find plenty of places to relax and enjoy local sourced food and a drink in one the many pubs, cafés, take-aways and restaurants.
Reviews of Corfe Castle
Beautiful place and you must try the local cream teas!
Lovely village with a great selection of pubs and tea rooms.
Great for just a stroll around! National Trust, so members park free
Park in Corfe Castle. Get the steam train or bus to Swanage and walk back along the Purbeck Ridge.
Corfe is a beautiful village especially when the weather is good!
Getting to Corfe Castle
The main route to Corfe Castle is via the A351 from Wareham or via the Sandbanks Ferry from Poole and Bournemouth
News, Updates and Local Information